Apple Power Users are in for a treat with the upcoming macOS Mojave and iOS 12 releases and there is hope for more down the road…
I've been an Apple User for quite a while now, starting with a blueberry iMac DV in 1999. For the better part of this time I've used whatever technologies available to automate and and streamline my workflows. If you want to weaponize laziness, give a nerd a repetitive and automatable task. From my morning routine to sorting my downloads folder to blogging quick links, I use automation a lot with Automator on my Macs and Workflow on my iOS devices. 
So I was thrilled by announcements at WWDC 2018. If you're as interested in automation as I am you should watch the sessions What's New in Cocoa for macOS and Introduction to Siri Shortcuts at the WWDC site. The good stuff in both sessions comes in towards the end.
I know a shortcut…
Apple has announced at WWDC that the "Shortcuts"" app will be available from the iOS App Store in fall, when iOS 12 ships. All Workflow users recognized that this will be the continuation of Workflow, the much-loved iOS automation app that Apple acquired in 2017. From the published screenshots it looks like Shortcuts will preserve Workflow's advanced features.
Why is this a big deal? Until now, all the actions in Workflow the to built and maintained by its development team. Now Apple has incentivized this party developers to create these actions as part of their apps.
In iOS 12, Siri suggests common tasks automatically to user as a broadly accessible feature. This requires developers to build appropriate extensions for these tasks. And when they do take advantage of Siri's new capabilities, they automatically build actions for the Shortcuts app.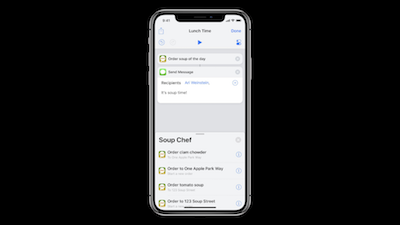 Developing such shortcuts just for a few power users, may not be very economical for app developers. But developing them so that Siri presents them to potentially all users makes perfect sense.
The more widely Siri Shortcuts are adopted, the more powerful the the Shortcuts app becomes. By making Siri Shortcuts dual-use for general audience and power users Apple has done its most important evangelists a huge advantage.
The Automator
The venerable Automator app has gotten some love again. When Apple demoed macOS Mojave at WWDC, Automator Actions were explicitly mentioned as a way of enhancing the Finder's capabilities. Automator's Action Bundles are now integrated with Touch Bar (wich looks like a perfect match).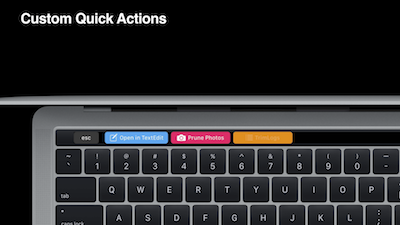 For Apple it makes sense to stress such power user features that differentiate the Mac from other platforms, including their own iOS.
Where the puck will be
I believe that this is not the end. Consider this: By 2019 Apple wants to bring third party iOS Apps to the Mac with as little effort as possible. Once developers can simply ship macOS versions of their iOS apps, it makes perfect sense to surface their Siri Shortcuts across macOS and specifically in Automator.
You could hit the Touch Bar to summon a ride, book a barber's appointment, or reserve a restaurant table. You could take a screenshot, resize, watermark, and send it to a slack channel, just with a voice command. And so much more…
And all this would take the least possible effort from developers because Apple is laying the foundations with the steps it announced.
I hope that Apple will pick the low hanging fruit and satisfy its pro/power users by making macOS an even more versatile and powerful platform next year.